Way North and DE Fishing Report, April 18 Update:
Trophy season is about to open and if the weathermen are correct, as this report goes live rain lasting into Saturday's early morning hours should be in the works. The front moving in is expected to bring breezy conditions and high gusts, as well. Obviously, that isn't the weather report you'd want to hear right before the season opens. Heavy rainfall can affect salinity levels and water clarity, and choppy conditions aren't part of an ideal opening day either. In addition, it doesn't look like a whole lot has changed since last week's report: Herb's reported the vast majority of stripers being caught are still schoolies between two and eight pounds on the Susquehanna Flats. Schoolies are now steadily being caught, and have provided consistent entertainment for those who have gotten into them. Anglers braving high winds on the Flats this past week have primarily been casting and retrieving light wobbling spoons, Bass Assassins, BKDs, and other soft plastics. Chartreuse and white have been the most popular colors up to now, but if runoff from rain muddies the water this weekend it might be worth matching the murk, and switching to darker colors such as purple and black. If you're unsure of which areas are off-limits for fishing entirely, which are open for catch-and-release only, and which are open for catch-and-keep, check out the Maryland Striped Bass Regulations Interactive Map. (It's pretty dang easy to use and very well-designed. Pat on the back, to whoever works on that for the DNR).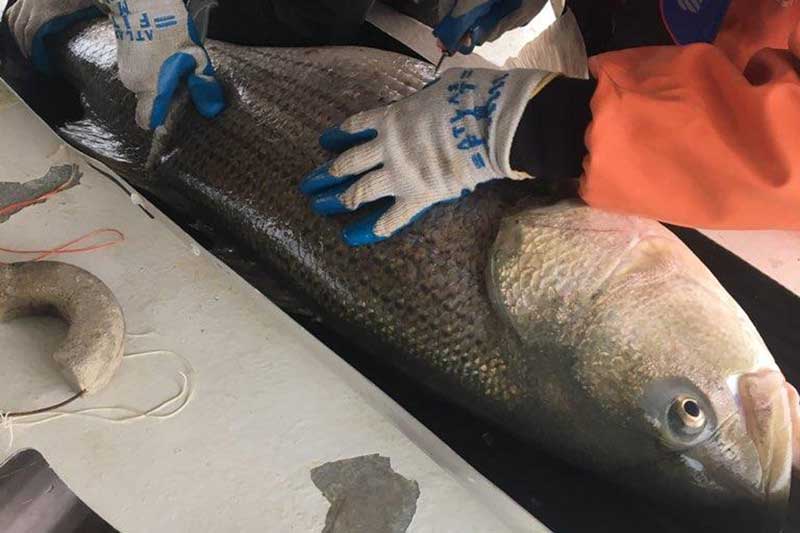 Clyde's Sport Shop mentioned that catfish have also been active throughout the Chesapeake and its tributaries. And although the white perch run is mostly done, the occasional white has been a welcome surprise to anglers catching cats. Taylored Tackle reported that most guys are using bloodworms and cut bait, such as menhaden, on a fishfinder or bottom rig. They also note for Delaware anglers that Phillip's Landing and Laurel Spillway have been providing stellar crappie fishing along with catfish and anglers using minnow have had snakehead as part of their catch. One other option for folks in this area: Hickory shad are still in the Gunpowder, and using shad darts or small spoons has been the most common and successful way to go about catching them.
---
Way North and DE Fishing Report, April 11 Update:
Our information for you this week is, in truth, a mixed bag. Although everywhere we called reported stripers, the general trend has been that the majority of rockfish are schoolie sized and catching a trophy seems to be mostly a matter of luck. With that being said, we're glad that anglers are at least getting a bend in their rods and glimpses of a Delmarva native's favorite fish. A few catch-and-release trophies have been reported on the Susquehanna Flats, where it seems like the bulk of the stripers have been caught. Herb's Tackle Shop and Sarge's Bait and Tackle reported that productive boats on the Flats are consistently casting and retrieving spoons, Bass Assassins, BKDs, or other soft plastics. Sarge's noted that most successful anglers have been sticking to six-inch BKDs in chartreuse and white on an ounce jig head with the same traditional colors. Fish throughout the surrounding area have primarily been in water between three and eight feet deep, however many guys are finding the fish up on the Flats where water temperatures have reached 52 degrees or above.
Aside from the stripers, we're now hearing that the shad are running up north as well (it seems to be about a week behind southern Bay tribs), and using shad darts or small spoons has been a popular way of catching them. Shad have been coming in from the Gunpowder and Deer Creek. Many anglers are also catching the tail end of the fleeting white perch run. Blood worms on a bottom rig have been the best bait for perch, and good numbers have been caught off Mariner Point in the Gunpowder.
---
Temperatures the past week have consistently made it above 50 degrees or more and started to warm up the waters in the Northernmost regions of the Bay, signaling time for rockfish to move further upriver and perch to head downriver. As these two spawnings are in flux, one on the upswing and the other losing vibrancy the past few weeks, the cat-fishery has remained rewarding. The Northeast, Susquehanna, and the Flats have been particularly lively, although channel cats can be found throughout most tidal rivers. Catfish have been taking cut menhaden and chicken breast and gizzards, however, anglers targeting perch and crappie by using minnow on a bottom rig have also seen cats in their mix. Further downriver away from spawning areas, post-spawn white and yellow perch are being caught on grass shrimp, blood worms and shad darts. The C & D Canal remains another good bet for catfish plus some perch.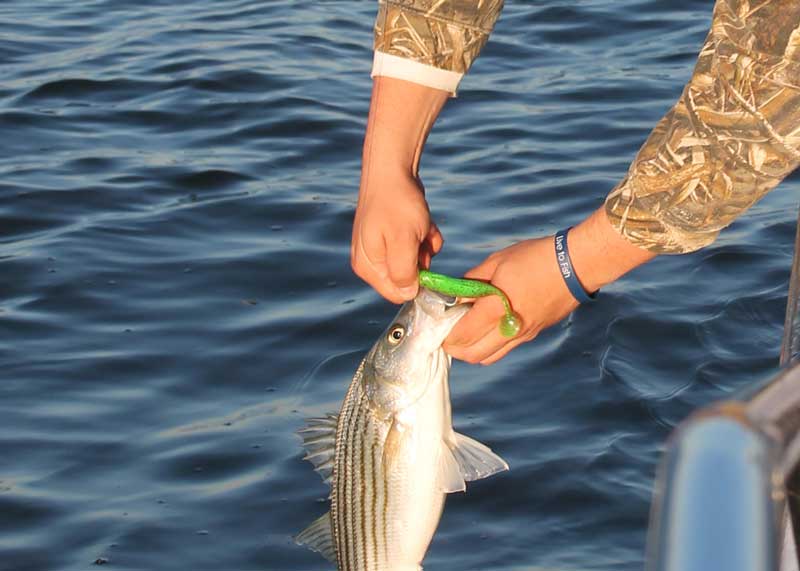 Clyde's Sport Shop reported that most preseason striped bass fishing has been taking place on the Flats, with limited success. Most anglers are opting to use ounce to ounce and a half jig heads in white or chartreuse with large BKD lures or GULP! lures, hoping to jig up a trophy rock. Despite a fleet of dedicated anglers heading out on days where both weather and work permit, few have been landing trophies, and just a smattering of mid-range fish are being hoisted out of the water (and then returned) in their place. The forecast for the next week is warm, so we should see trophy females begin to work their way north into spawning waters in greater numbers soon.
Although the Virginia tribs have seen the first of the early shad, we have yet to hear of any this far north from the likes of Deer Creek and the Gunpowder. A quick warm-up could change that overnight, though.